Deciding upon an e-commerce platform has become tougher than selecting a life partner. Jokes apart, e-commerce is booming, and with cut-throat competition around, the hunt for a perfect e-commerce platform has become a priority.
The Perfect E-commerce Platform
If you ask, does a perfect e-commerce platform exist? Then yes, gone are the days when people had fewer choices and had to compromise what they got on their budget. Today, one can get an e-commerce platform of their dreams along with the freedom to customize it as they desire.
Out of many e-commerce platforms, a few have made it to the top among which Shopify, BigCommerce, and WooCommerce are the top-notch ones. Each has multiple strengths and weaknesses and hence you must always pick up a platform that proves to be best for you and your business style.
So, to make it easy for you to come to a conclusion as to which one to choose to build your e-commerce platform, we have curated a detailed comparison of all three biggies – BigCommerce, Shopify, and WooCommerce to help you take your business to the next level.
Please note that it doesn't matter if you are just making your debut into e-commerce or already are an online store that's exceeding the $1 million yearly revenue figure, all three platforms serve the way a business wants it. So, before proceeding to the ultimate comparison, here's a quick intro to the three heart-winning platforms for your understanding. 
For those looking to set up their online store most quickly and easily, Shopify is like a one-stop solution. Shopify has everything an online store needs to be up and running without any additional plugins.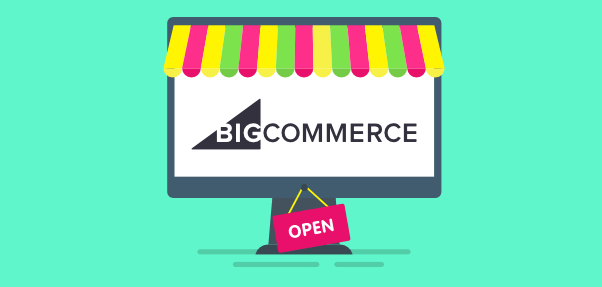 Well-suited for business, BigCommerce is a SaaS (Software-as-a-Service), which means you only have to pay a monthly fee. You also don't have to purchase any web hosting or install anything on your computer to use it.
Add the DesignO BigCommerce App to your Bigcommerce site and grow your print store in minutes.
Technically, it isn't a platform itself, WooCommerce is just a powerful plugin of WordPress that you can add to your site to enable eCommerce functionality.
Now, let's dig into the detailed comparison of each feature of all three eCommerce platforms. 
Here's the list of features you need to check before choosing a eCommerce platform. 
Since pricing is a complicated factor in a web to print business as it varies depending upon the customization done in size, color, paper type, finish, design, quantity, etc., a flexible pricing feature is a must in the eCommerce platform to run it well. So, here's what you can expect.
Shopify doesn't have a product options feature, if you want to create options like paper type, finish, etc., then you have to create variants which in turn generates variation with permutation and combination. i.e. if your product has just 4 options with 5 values each it will create 1024 variations. Each variation has a price, quantity, SKU, etc which is required only when you want to manage inventory otherwise it is difficult to handle.
BigCommerce has variants and modifier options both. Variants can be used to manage inventory and other options can be handled by modifier options.
The product options feature is also missing in WooCommerce and hence the case is the same as Shopify.
2. E-Commerce Customization
Forget full customization, Shopify offers limited customization, which means you get customization abilities depending on the plan you are using, and if you need more, you will have to upgrade to Shopify Plus.
Same as Shopify, you will get customization possibilities depending on the plan you are choosing.
There is no limit to the customization possibilities that you get with WooCommerce. Thanks to the fact that it is self-hosted because you will get unlimited coding customization and if you are not good at it, don't worry, you can use WordPress' built-in theme customizer to create custom menus, change tiles, and taglines, and update your homepage settings.
If you think you're ready to reach new customers online, then sign up and get started. You really have nothing to lose.
3. UI And Theme Development
The visual quality of the collection of about 100 pre-designed website themes, stretching across all the major business categories, is one of the greatest selling points of Shopify. 
Like others, you get several attractive themes in BigCommerce but only a few are free. You have to pay to get more options.
You will enjoy a variety and large collection of beautiful themes in WooCommerce which you can access without any restrictions.
Grow your revenue 5X with DesignO!! World's most affordable online graphics designer software. Get DesignO Brochure Now!!
It definitely beats everyone in the SEO game. The only drawback is the lack of keyword support
Its SEO features are great in recommending words to use in product descriptions to help rank higher on search engines
Since it is basically a plugin of WordPress, you get more SEO-specific options compared to others but the only problem is that your site speed largely depends on the hosting you go with.
You get volume-based pricing in Shopify.  The cheapest plan Basic Shopify starts at $29 monthly, to upgrade to Shopify Advanced you will have to pay $299 monthly. Other than that, there are Shopify and two additional options – Shopify Lite and Shopify Plus (aka Enterprise). Shopify also charges a transaction fee of 2% if you're not using Shopify Payments (which is available only in 17 countries). You get a 14-day free trial to test which suits you best.
Similar to Shopify, BigCommerce also lets you try before you buy, with a 15-day trial. It has three core plans ranging from $29 p/m to $249 p/m, including a quotable Enterprise plan.
Basically free. You only have to pay for separate hosting and individual costs like SSL certificates, themes, etc.
Whether you have just started, are mid-size or are an enterprise, Shopify's store management feature ensures hassle-free operations
Not much fancy, simple yet not at all complicated, BigCommerce offers excellent store management features that allows you to manage multiple stores using a single admin panel.
You will be able to manage your multiple stores like a pro with WooCommerce's store management feature that takes care of all orders, shipping, and other management processes like a piece of cake.
Known for its high-quality customer care, the user can connect 24/7 via email, phone, and live chat, as well as use the help center, discussion forums, and e-commerce university on the Shopify website.
24/7 chat, email, and U.S.-based phone support, as well as resources on the BigCommerce website, you get all kinds of customer support in BigCommerce
Although WooCommerce has a very specific support policy, being an open-source plugin, you can access email support on WooCommerce.com as well as in the WordPress.org forums
Apart from over 100 third-party payment gateways, Shopify comes with its own payment processing capabilities along with free shipping, checkout in multiple languages, automatic or flexible shipping rates, automatic taxes, and utilizing the Shopify abandoned cart recovery tool.
Compared to the other two, BigCommerce has limited payment options.
Just like Shopify, you get more than 100 payment options but the good thing is that you don't have to pay extra transaction fees like Shopify.
9. Localization (Currency And Language)
It offers native support for multiple languages and currencies but you can always go the extra mile using the plugins.
You have to depend on third-party plugins for multiple languages and currencies support.
Just like BigCommerce, you can achieve support for multiple languages and currencies via third-party plugins.
You might have got a clear picture regarding the three incredible eCommerce platforms that are equally good but must be chosen depending on the business and its requirements. So, as far as a web to print store is considered, although all three are eligible for it, Shopify is a clear winner due to its product designer feature.
DesignO's Shopify product designer is the best example to prove it. It comes pre-integrated with Shopify and hence you just have to download and integrate it with your existing website in a few simple steps and start selling personalized products.
DesignO's WooCommerce product designer is also an equal winner which is powered by a centralized print order management software that works for all sorts of businesses be it print service providers, packaging manufacturers, graphics designers, in-plant printers, or any.
Don't worry since DesignO is compatible with all, it can also be integrated with BigCommerce web to print, offering the same set of outstanding features using which you can take your print business to the next level.
With a long list of awesome features, integration of DesignO – a Plug-n-Play Online Graphics Designer Tool is all that you need to make your web to print store a star among the crowd.