Design Studio, the all-comprehensive web to print solution of DesignNBuy now available on Magento Marketplace as DesignO easy-to-install plug-in extension for the Magento 2 marketplaces and print shops.
With this initiative, online printing businesses can now get access to the product configurator solution with a click of a button!
DesignNBuy has been disrupting the online printing market with its all-comprehensive online design tool since 2008. No matter whether you are into the apparel printing business or a customized gift product seller, whether you provide packaging solutions or you have a personalized marketing collaterals business, our product provides complete automation and digitization of product designing and customization.
Along with customization capabilities, the product also provides complete order management and customer management modules for a seamless digital transformation.
Talking about the implementation timeline of a web-to-print solution, it generally consists of 3 major steps such as planning, implementation and adoption.
Based on your business nature and size, the entire process of integrating a web to print solution for your business can take up to 20-120 days depending upon the platform requirements, development, customizations and training requirements.
To make the process seamless and to reduce the implementation timeline significantly, DesignNBuy now provides DesignO tool as an easy-to-install plug-in on Magento Marketplace.
Designed specifically for Magento2 shop owners, DesignO is a plug-n-play web-to-print extension that comes with a user-friendly online product editor and a comprehensive backend management system.
Making product customization easy and accessible, DesignO is a plug-in extension that can help any business that wants to introduce product customization and product personalization to their customers or who wishes to digitize their product designing processes.
Significant features of DesignO
To help you better understand the product and its capabilities; below are a few of the significant features of the extension:
Easy to use design tool that works on any handheld device for product personalization
The design tool opens within your Magento store so that customers never leave your website
Real-time quotation for the custom artwork with complete price definition control
Employ print-on-demand business model
Cater personalized user experiences with a complete customer management module that comes with features like saving their designs, one-click ordering and re-ordering to get the high lifetime value of the customers
Seamless integration with your Magento 2 store allows customers to directly add their customized product to your shopping cart page and customers can also proceed to checkout or go back to the design tool for further modifications in the artwork
Get support on multiple stores
To add localization capabilities, DesignO is available in multiple languages and also supports Multi-currency
Access to template library that provides business-specific editable templates with design template builder. The print shop owner can also define editable and non-editable elements in the artwork
Pre-loaded library of clipart and fonts
The print-ready output file can be used to export the artwork to the printers.
Complete order management capabilities right from job monitoring to press to ready-for-delivery status updates
Define unique print workflow management for each type of printable product 
Get access to useful information and reports from the live job dashboard and job calendar
Notifications and e-mails for artwork approval and status updates to/from customers and your internal team
Get role-based access to back-end users for optimum data security
Businesses that can benefit from DesignO: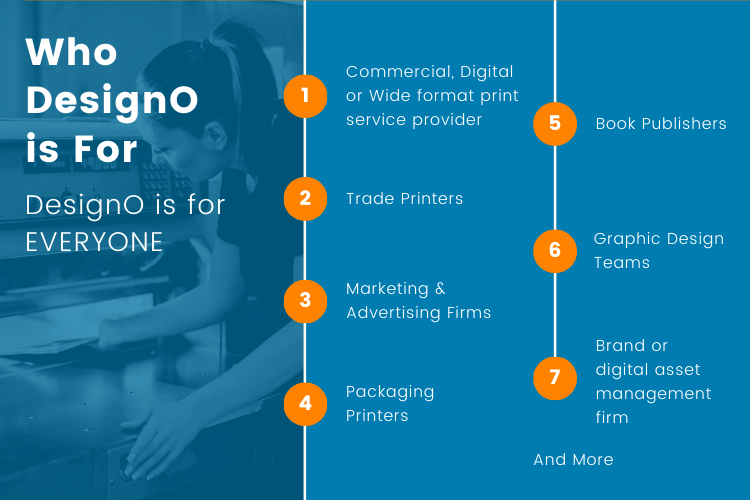 Personalized gifting service provider
Gift and commercial product designers
Apparel businesses
Business collateral designers and printers
Packaging solutions provider
Social media marketing agencies
Artwork designers
Variable data printing products
To understand more about the pricing and support policies or to get a complete demonstration of the product, schedule a meeting today.