Web-to-print solutions are the raging digital trend these days. According to research, the web-to-print industry is forecasted to reach $37.8 billion by 2027 growing at a CAGR of 6.54%.
So, it's not surprising that anyone who invests in this business is destined to capture a vast target audience and generate more revenue.
But every country has its own payment system, language requirements, and complex regulations. You may have already read the challenges faced by printers in Europe in Parts 1 & Part 2.
In this post, we'll cover how web-to-print can overcome them.
Solution 1: Design Automation
Web2print solution can replace the traditional European printing business by automating the design process. It allows the customers to customize designs by choosing editable templates.
They can also upload their own designs. After the design process, a print-ready file is available that can print all orders in one go without human intervention.
Solution 2: Faster Turnaround Time
Manual printers in Europe face management problems. But web-to-print can eradicate this problem.
It comes with a vendor and data management system with one-click re-order functionality. Web-to-print provides personalization from the designing to the checkout process resulting in a faster turnaround time.
Solution 3: Instant Quotation
When customers select customization features, European printers can provide an instant quotation with a web to print online designer. 
With the help of price quotations, European printers can offer custom designs within the customers' budget resulting in an increased lead conversion ratio.
Solution 4: Faster Transactions with Design Templates
A web-to-print tool provides a library of editable design templates that customers can choose from to customize designs quickly. Next, they can place a quick order or reorder on the platform.
Solution 5: Centralized Data Management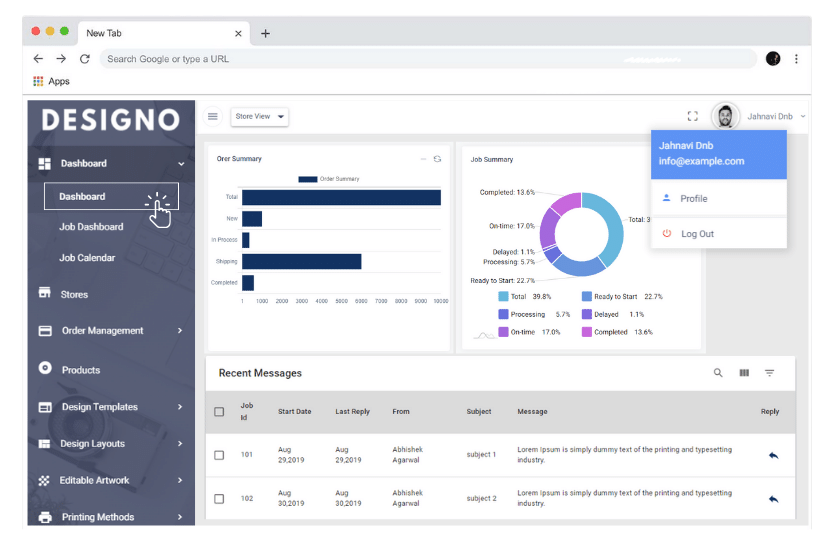 A web-to-print technology can centralize the management system for European printers. Customers can place orders directly on the platform, and administrators will be able to get a centralized view of the orders.
They can also check the status of orders. It helps the decision makers to analyze the print business and make informed decisions.
Solution 6: Product Innovation
Web-to-print offers an innovative solution for European printers. It provides extensive customization functionalities where customers can change colors or fonts or use images, clip arts, emojis, etc. 
They will be able to create unlimited designs and bring an innovative touch to their product.
Solution 7: Grabbing Market Trends
The print industry trends frequently change in Europe due to the evolving print market and customers' interests. Hence, manual printers cannot adopt those trends fast enough.
But a web to print storefront will be able to create virtual designs without the need for a physical inventory. It will also produce prints as per customers' demand. So, this kind of business model in Europe will be able to grab trends quickly, and with editable templates, it can cash on the opportunity
There is an increased demand for attention-grabbing print packaging in the European market. But traditional European printers struggle to provide unique, dynamic, and consistent prints for their customers.
In this scenario, web-to-print software can come to the rescue. It provides clients with the exact customization and variety of solutions they usually look for.
They can create complex designs and use customization options to personalize products. Web-to-print also gives the ability to print on various materials.
You can check out How to Solve Key Challenges of the Packaging Industry with Web-to-Packaging?
Solution 9: Automated Workflow
Not only is there a high demand for dynamic printing in the European market, but consumers also want faster results. This leads to higher fulfillment costs. But in this case, it is a considerable challenge for European printers to keep the production prices low.
Web-to-print is an automated technology that can increase productivity and boost workflow. The streamlined process will automatically keep the fulfillment costs low. 
It will include monitoring machinery and uptime, tracking employee productivity, and overseeing the print jobs. Hence, European printers won't have to struggle to balance their production costs.
Solution 10: Sustainable Operation
Most European consumers want sustainable items. This region generally is more conscious about producing eco-friendly products. In fact, the world's top ten eco-friendly countries are in Europe.
The print industry is resource intensive as it uses paper, vinyl, and inks. But this is changing because of web-to-print technology. It helps complete all the processes online, from customization to printing jobs.
You can send the print job to a cost-effective device. There is less power consumption and low wastage of material. Also, you'll only print the order that the customer will demand.
It saves resources, materials, and time and reduces production costs. In addition, European printers are also adopting eco-friendly inks, paper, printing, and packaging materials to support the climate cause.
Solution 11: Personalized Product Offerings
Web-to-print doesn't require technical experience to produce custom designs. It is user-friendly, so anyone with zero design skills can use it without any hassle. Without investment in product innovation, it can help European printers to deliver personalized designs in less time.
Need Fast Integration to Launch and Scale Your Online Print Store?? Grow your online print store with DesignO.
Solution 12: Multiple Revenue Streams
European printers struggle to adopt multiple revenue streams. But an ideal web-to-print solution can provide a multi-vendor platform to build multiple revenue streams. 
You can invite various brands and provide custom offerings simultaneously. In addition, you can render services to numerous designers and enterprises.
Solution 13: 24/7 Business
No printing solution can be as comprehensive as web-to-print. It is mobile responsive, so you'll never miss a business opportunity. Your customers can place orders from any place or country through their smart devices. They can also customize designs on a handheld device. 
The print industry in Europe faces many challenges every day due to the high demand for unique and dynamic prints. Printers must churn out faster prints, boost productivity, and streamline workflow. 
The competition is tough, but by choosing the right digital print solution, they can attract more customers and generate revenue.
An all-inclusive solution such as web-to-print from Design'N'Buy can help European print businesses to overcome various challenges. 
It offers customized printing solutions, scales the printing business, automates the workflow, provides sustainable operation, and reduces production costs.