The first month of 2018 has been extremely important for Design'N'Buy. After launching our flagship solution the All-In-One Designer with a completely new look and feel on Magento 2.2 we are thrilled to announce our new extended office space. This latest move represents a new era for Design'N'Buy, as we focus on breaking deeper into the global markets.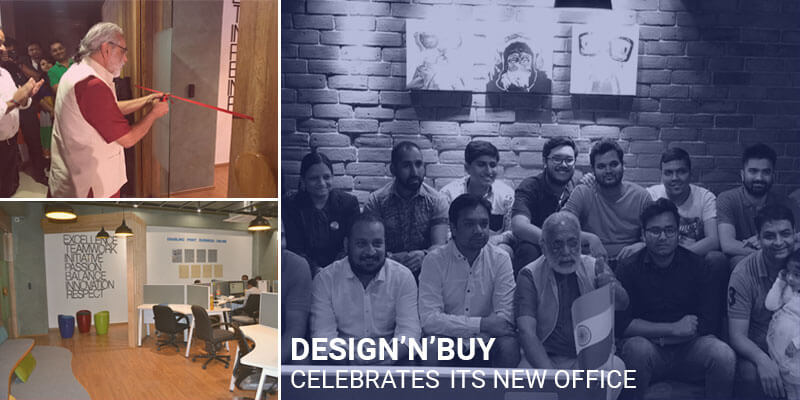 Now designing a new work space was about balancing the aspirations and working habits of individuals and the team as a whole and, believe me, it isn't an easy job. Some prefer to work in silence while others enjoy the soothing music in the background and then there are a few who get best results from brainstorming with the group. Hence, every square feet of our office has been thoughtfully designed and we made sure that we have both function and aesthetics in every corner.
At Design'N'Buy, we want to ensure everyone can express themselves and therefore an important part of our new working environment is a big and bright open space where information constantly flows around and strengthens team's focus. The arrangement of our new working space has vastly improved collaboration between different groups within the team and consequently is sure to boost the internal communication and efficiency.
We designed the office to align with our vision—to build solutions and the organization that puts human experience at the centre stage. This is reflected in our values:
Humans. Make lasting connections. Be like family. Listen deeply. Debate passionately. Use good ingredients. Details matter. There's more to learn. You'll figure it out. Talk openly. Be serious about fun. Let things unfold naturally. Celebrate with spontaneous applause. Put experience 1st. Compete with yourself.
Space for focus
One of the main highlights of our office is the open wide space with evenly distributed workstations that help them focus on the problem at hand and with a swivel of the chair the rest of the team's there. It's always nice when your team's behind you. Our Sales teams are there too. And there's plenty of extra space for others who want to tuck themselves away.
The Silent Corner
When workstations start feeling mundane, someone needs to concentrate deeply and finds the buzz of the workspace distracting they can take their gadgets to a silent corner which help tuning out the noise and just focus on the task at hand.
Serendipity space – The Agora
During the ancient Greek period, the Agora was a central gathering space where people met to nurture artistic, spiritual, and political life. We thought that seemed like a good idea, so we built our very own. A place where everyone comes together to listen deeply and debate passionately.
Everyone has their own dedicated workspace. But sitting in the same spot all day can be draining. So we knew we needed some versatile spaces that can spark creativity.
You don't book a time for these areas. This is a place to let things unfold naturally—spontaneous meetings, lunchtime seating, afternoon coffee, or just a discussion over a current issue.
Bringing ideas together
We now have another new meeting room and with some really positive quotes in there you always know that you've arrived at the right place. Plenty of breakout area filled with whiteboard and a screen—great for our daily stand-ups.
And then there's the Director's room. It's where the big decisions are made, and we take those decisions seriously. But we're also serious about fun, and that spirit lives here too.
We think such a setting is well deserved for a team so awesome. Want to see what we actually do inside these walls? Drop in to our office and let's have a meet.