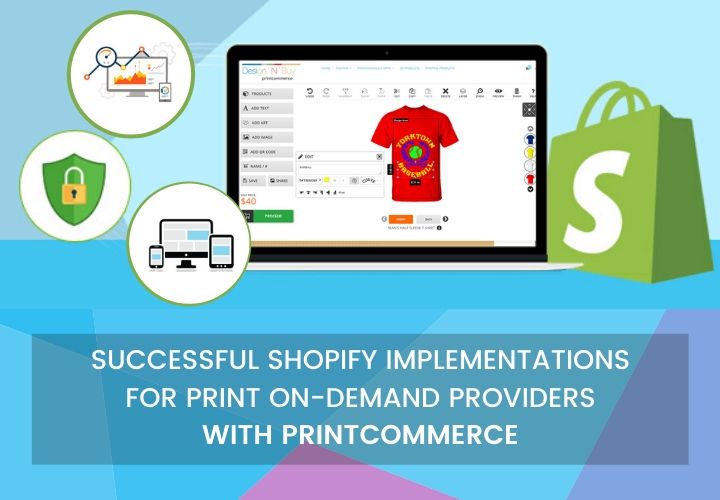 Pesonalization is the new way of buying your favorite merchandize, apparel or goods online. The two major factors influencing the trend are: first, buyers have moved to online shopping for the freedom of ordering anytime, from anywhere at their convenience. And second, shopping has got more personalized as consumers now want products that are "Made for Order" as per their personalized design and specifications.
Shopify is one of the leading eCommerce platform and favorite among SMEs and preferred when store owners need a subscription-based eCommerce platform than a self-hosted one to implement their online store. But, unfortunately, there has not been any mature and feature-rich Shopify App that can allow end customers to choose a product and personalize it with the help of an integrated design tool before ordering.
That's the reason, DESIGN'N'BUY extended the integration of its world's leading web-to-print solution with Shopify eCommerce. Now, Shopify subscribers or Shopify Stores can integrate the PrintCommerce Design Tool Plug-in with its Web2Print Admin Panel and easily set up their products for personalization and process orders with print-ready artwork files.
Some of the key benefits of PrintCommerce for Shopify are:
---
Here are some live implementations of PrintCommerce in integration with Shopify stores. The apps have been customized to fit specific business needs.
---
Offering personalized bags and tags with live 3D preview
Selling Personalized Coloured Plaques
Offering high end customized fabric and materials, along with cutting-edge digital print and laser cut capabilities.
DESIGN'N'BUY has a successful track record of developing and delivering customized design tool and product customization tools based on your specific business needs. So, just send us an inquiry today and we'll schedule a Shopify web to print live demo of our solution for you with one of our experts who can guide you to make a right decision to implement web-to-print for your business.
---
Contact us for further questions, I'll be happy to answer them.
---
Need more help? Click on an article below
Design'N'Buy launches PrintCommerce Design Tool for Shopify
4 Great Reasons Why Online Product Designer Tools are So Popular
5 Questions to Ask Before Investing in a Magento Product Designer Tool