According to recent industry data, the global digital printing market is projected to grow at a CAGR of 6.7% from 2021 to 2028. Looking at this data it is evident that printing industry is in the midst of a major digital makeover. With the rise of print automation, streamlined print job management, and more efficient print workflow management, it's crucial to keep up with the latest trends.
In the eighth episode of our "Interview with Print Experts" series, we had the privilege of gaining insights from a seasoned professional with over three decades of experience. Together, we explored topics such as sales growth strategy for commercial printing, large format printing, how digital printing is shaping the industry, and some of the best sustainable printing practices. Along the way, we discovered the pivotal role of web to print solutions in driving this transformative journey.
Cary Sherburne's Journey in Printing: A Legacy of Innovation
Q: Could you kindly provide some insight into your background and involvement within the printing industry?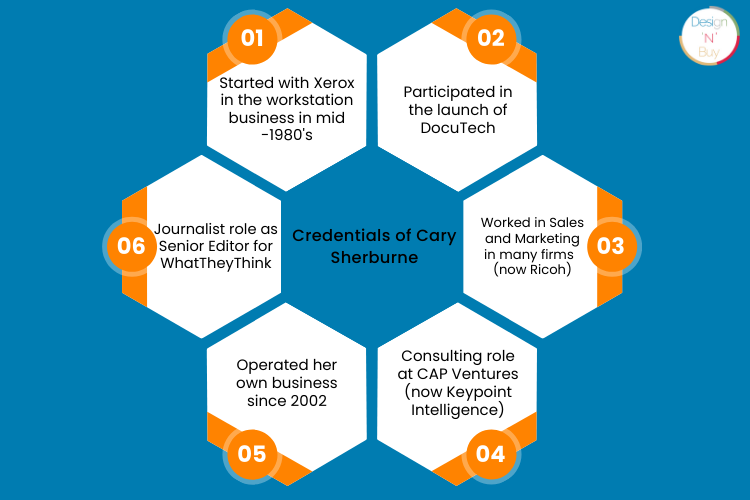 I've been involved in the printing industry since the mid-1980s, starting with Xerox in the workstation business, and then participated in the launch of DocuTech, the beginning of the print-on-demand era. Since then, I have worked in sales and marketing at Indigo, PageFlex, IKON Office Solutions (now Ricoh), and in a consulting role at CAP Ventures
(
now Keypoint Intelligence), where I worked with a wide range of printers and suppliers to the industry. Since 2002, I have operated my own consulting business where I work with clients to develop marketing materials, web content, press releases, white papers and more, as well as perform a
journalist role as Senior Editor for WhatTheyThink
.
Here are five key takeaways from the interview:
How Automation Helps Print Workflows
Exploring Profitable Printing Niches
Sustainability's Role in Printing Transformation
Web-to-Print as The Digital Revolution's Starting Point
Innovative Strategies for Printers' Relevance in a Changing Landscape
How Automation Helps Print Workflows
Q: Through automation, how do printing companies ensure seamless collaboration, clients satisfaction and portability?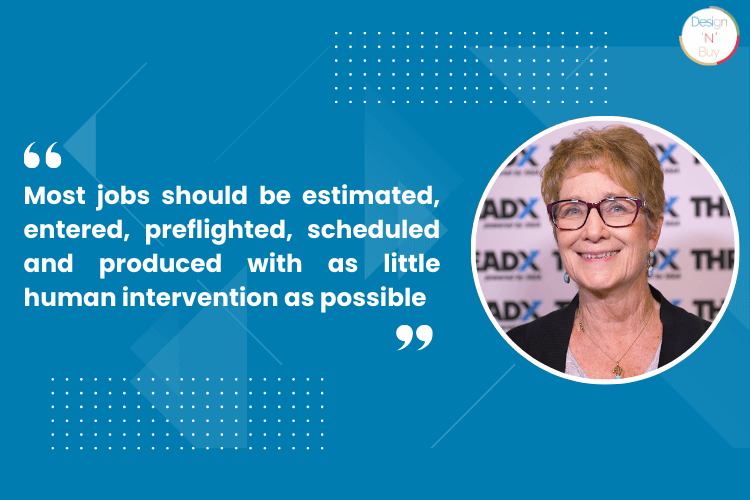 Printing companies should offer a seamless, customer-facing interface that gives customers 24/7 access to order entry, job status and more. But prior to opening the gates to a potential flood of incoming work, they should prepare the back end.
Ideally, most jobs should be estimated, entered, preflighted, scheduled and produced with as little human intervention as possible, with jobs being kicked out of the process when errors occur for exception processing only. This workflow also gives printing company employees instant access to all of the information they need to do their jobs and get work out the door as efficiently as possible.
Exploring Profitable Printing Niches
Q: Which printing segments do you suggest to printers to focus which can keep their order funnel busy?
It depends on where they are at the current time. For commercial printers, who are experiencing a contracting market, a logical expansion is signs & display graphics, a growth market. They can also explore packaging solutions especially tuned to smaller companies that don't want or need the long runs and minimum order quantities the larger converters require, with folding carton and labels being the easiest to enter.
For sign & display graphics businesses, if they are not already producing soft signage, that is a logical next step, followed by direct to garment, direct to film, or even direct to fabric for textiles & apparel applications. Should they choose to use digital dye sublimation printing, that also opens the door to producing a wide range of promotional items, such as mugs, drinkware, home decor items, and my favorite, personalized dog dishes.
The opportunities are endless, only limited by their imagination and by exploring the needs of existing and potential customers. If they are already producing commercial print for a customer, for example, they should be asking how they are buying signs & display graphics, trade show materials, promotional products, etc.
For companies already producing direct-to-garment printing, they can now easily add DTF (direct-to-film) and even DTG (direct-to-fabric). As they gain more expertise, they can add cut-and-sew or find partners who can do this work for them.
In all of these cases, by using digital print devices and automated workflow, they can profitably produce products on demand and deliver them in a timely fashion.
Sustainability's Role in Printing Transformation
Q: Can you share insights on relation between sustainability and digital transformation?
There is a clear link here. Conventional production processes, regardless of the industry segment, generate a great deal of waste and often use harmful chemicals. Whether it's plates in flexo or offset, engraved gravure cylinders, screens for rotary printing and the like, time and materials are used to prepare for printing (makeready) and there is waste as the presses run up to color.
Washing up between jobs, whether it's presses or screens, also uses water, wastes inks and creates potential pollution. Printing to estimated requirements (just in case) versus on demand (just in time) also creates a great deal of waste.
Implementing digital production processes has many benefits, including the ability to do runs as small as one, customizing or personalizing output, and producing exactly what is needed, when it is needed, and as close to the point of need as possible.
In the textiles industry, the waste and toxic pollution is horrendous, with dyes polluting and poisoning rivers, streams and even oceans. Textile waste is often headed for landfills. And water usage is excessive.
Digital printing and dyeing of textiles eliminates these environmental issues, and the technologies have significantly improved over recent years, especially as it relates to pigment inks which often require no pre- or post-treatment, water usage or toxic chemicals.
Plus, producers and their customers benefit from faster time to market and the ability to customize output — the latter has the ancillary benefit that the ultimate end user, who may also be involved in the customization process via an online interface, is likely to keep the product longer, resulting in some level of landfill diversion.
Web to Print as The Digital Revolution's Starting Point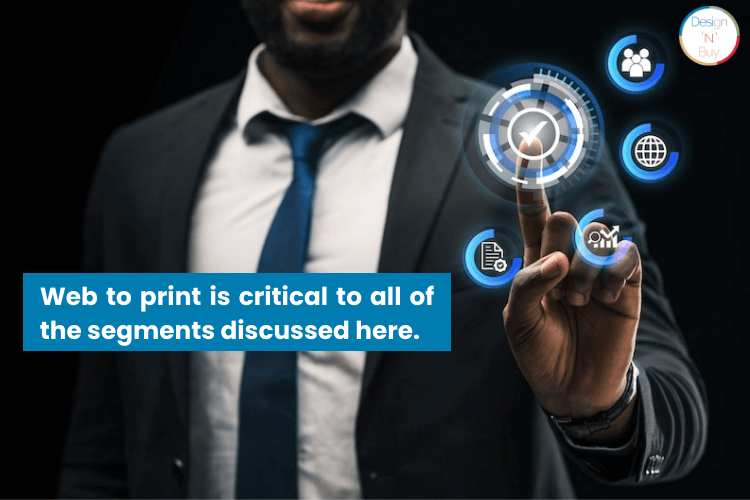 Q: How do you see web to print's role in digital transformation of print businesses?
Web to print is critical to all of the segments discussed here. Not only is it more convenient for the customer, but it is the beginning of the automated workflow for the producer. Not everything can be ordered this way, to be sure.
Some applications are more complex, but even for those, such as folding cartons, labels and direct to garment, while the initial order and set-up may require human intervention, reorders, which are common for these applications, can be automated.
Innovative Strategies for Printers' Relevance in a Changing Landscape
Q: What strategies do you believe printers should adopt to remain relevant in this evolving landscape?
They need to think out of the box. They should be talking to customers and prospects about what they are buying and from whom. They should be asking what kinds of issues they may be experiencing with their current processes. This will give them insight into ancillary services they could be offering. This becomes solution, rather than transactional, selling and may require signficant changes to the sales process. And they should be brave about taking the digital leap.
I recently interviewed a printer in the U.S. Southeast that has revenues just under US$15 million. He was inspired by his research on digital printing industry trends and a trade event he attended. He completely transformed his business over a 12-month period, changing out every single piece of equipment in the shop, transforming the business to completely digital, including digitally-enabled finishing equipment. The benefits were immediate and huge. Work he had to turn away before became viable and profitable and he opened the doors to faster growth, new customers and more.
While I am not sure how he calculates his ROI, my impression is it was much faster than even he anticipated. His success is also due to building mutually beneficial partnerships with suppliers to the industry, rather than creating bidding wars, buying on price alone, and the like.
It should also be noted that these days, it is much easier to integrate multi-vendor environments, and suppliers/partners should be chosen based on their willingness to help with that integration.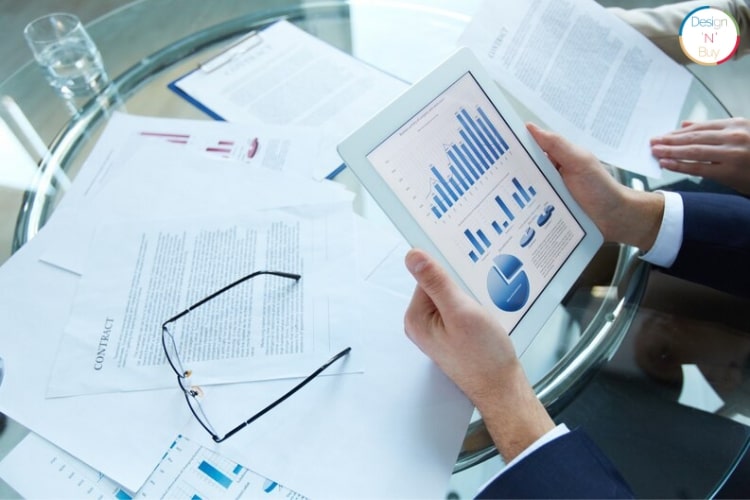 Digital Transformation is the Way to Go
Cary Sherburne shed light on critical aspects of the printing industry undergoing a significant digital transformation. From automation enhancing workflows to sustainability driving change and the pivotal role of web-to-print solutions, the industry is at the cusp of a digital revolution. Innovative strategies, open dialogue with customers, and the courage to embrace digital technologies will be the keys to remaining relevant in this ever-changing landscape.
We have consultants who can help you through your print business's transformation journey. Book a Free Consultation Today.